From 'Flash Bangs' To 'Rubber' Bullets: The Very Real Risks of 'Riot Control Agents'
Permalink - Posted on 2020-06-06 14:29, modified at 16:31
Protesters against systemic racism and police brutality have been met with an arsenal of 'less than lethal' weapons which can still seriously injure, sicken, and sometimes kill.
---
Tracking The Pandemic: How Quickly Is The Coronavirus Spreading State By State?
Permalink - Posted on 2020-06-06 13:20, modified at 13:27
View our map and graphics to see where COVID-19 is hitting hardest in the U.S., which state outbreaks are growing the fastest and which are leveling off.
---
Coronavirus World Map: Tracking The Spread Of The Outbreak
Permalink - Posted on 2020-06-06 13:05, modified at 13:07
A map of confirmed COVID-19 cases and deaths around the world. The respiratory disease has spread rapidly across six continents and has killed thousands of people.
---
On Dying Alone: 'Behind Every COVID-19 Case, There Is A Story'
Permalink - Posted on 2020-06-06 11:00, modified at 13:07
The unconscious man was a Beatles fan, his sister said. When she couldn't be with him in his final ICU hours she asked Dr. Daniel Colón Hidalgo to play music and say the words she wanted him to hear.
---
From Murals To Tweets: The Global South Shows Solidarity With George Floyd Protests
Permalink - Posted on 2020-06-06 09:35, modified at 13:07
Whether by painting murals, tweeting or taking to the streets, people in countries struggling with conflict, poverty and other crises are showing support for the Black Lives Matter movement.
---
New Coronavirus Hot Spots Emerge Across South And In California, As Northeast Slows
Permalink - Posted on 2020-06-05 21:51, modified on 2020-06-06 18:26
Nationwide, coronavirus infection numbers are trending down, but several states are seeing upticks, with the heaviest impact falling on communities of color and nursing home residents.
---
Coronavirus FAQs: How To Stay Safe While Protesting, When To Go Out After Recovery
Permalink - Posted on 2020-06-05 21:21, modified at 23:09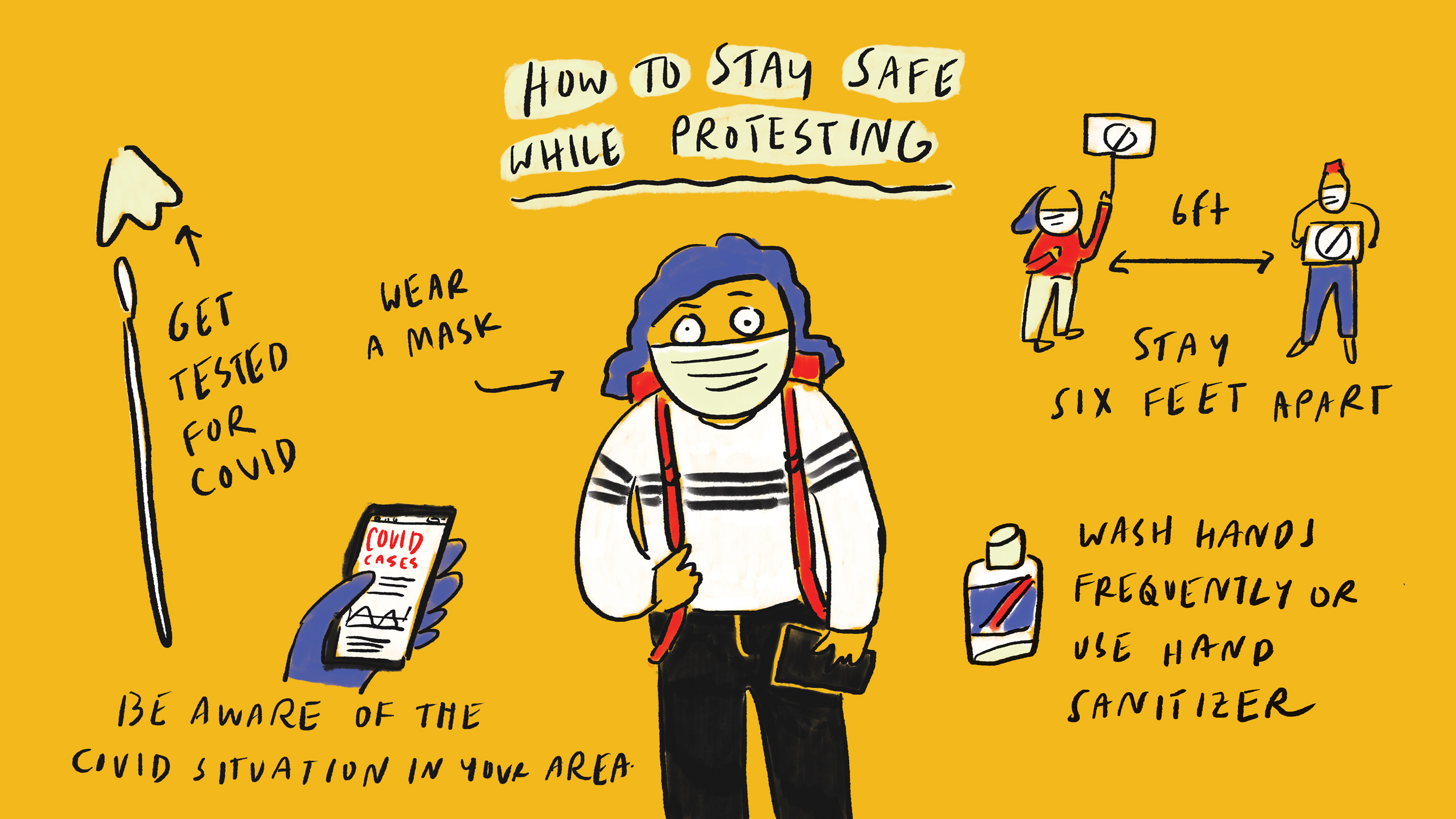 Also: If I head to a new state or country for a visit, do I need to self-isolate to protect others in case I'm contagious?
---
How Will The U.S. And WHO Fare Without Each Other?
Permalink - Posted on 2020-06-05 18:06, modified at 19:22
Global health experts weigh in on the short- and long-term consequences of the U.S. breaking ties with the World Health Organization.
---
COVID-19 Outbreak In Pacific Northwest Seafood Industry As Season Ramps Up
Permalink - Posted on 2020-06-05 14:21, modified at 19:44
Most of the crew on one massive seafood trawler has tested positive for COVID-19. Other vessels also have cases, despite sweeping measures to try and prevent the spread of coronavirus.
---
Tear-Gassing Protesters During An Infectious Outbreak Called 'A Recipe For Disaster'
Permalink - Posted on 2020-06-05 10:00, modified at 19:15
Researchers say police should not be using tear gas or pepper spray against protesters. They make people cough droplets and damage the body in ways that could make people sicker from COVID-19.
---
May Surprise: U.S. Adds 2.5 Million Jobs As Unemployment Dips To 13.3%
Permalink - Posted on 2020-06-05 09:01, modified at 20:47
U.S. employers unexpectedly added jobs last month as the unemployment rate declined, signs that people are returning to work as states reopen their economies. President Trump celebrated the news.
---
Farmers Find Ways To Save Millions Of Pigs From Being Euthanized
Permalink - Posted on 2020-06-05 09:00, modified at 12:58
When COVID-19 infections forced pork companies to close processing plants, some farmers predicted that it would force them to euthanize millions of hogs. The actual number has been much lower.
---
Authors Retract Hydroxychloroquine Study, Citing Concern Over Data
Permalink - Posted on 2020-06-05 00:06, modified at 12:58
A paper suggesting hydroxychloroquine increases the risk of death for patients with COVID-19 has been retracted by three of its authors because they were not able to verify the data used in the study.
---
Phase III Vaccine Trials, Testing On Thousands, Could Start In July
Permalink - Posted on 2020-06-04 22:14, modified at 22:15
It's been 96 days since the first person in America was reported to have died of COVID-19. And for the first time, the federal government will require states to keep track of who's getting sick and who's dying based on their age, sex, and race and ethnicity.

Sign up for 'The New Normal' newsletter

Around the world, 10 vaccine candidates have begun human trials.

COVID-19 has killed nearly 110,000 people in America. And black Americans are dying at nearly two and half times the rate of white Americans. As NPR's Stacey Vanek Smith and Greg Rosalsky report on the economic reasons why.

Plus, WAMU reporter Jacob Fenston reports on 85-year-old Margaret Sullivan, who feels like she's been "living in a bubble" since the start of the pandemic.

Find and support your local public radio station


---
Race, Ethnicity Data To Be Required With Coronavirus Tests In U.S.
Permalink - Posted on 2020-06-04 20:41, modified at 22:15
The federal government says that as of Aug. 1, all laboratories must include detailed demographic data when reporting test results in order to help fight the pandemic nationally.
---
Which States Are Reopening? A State-By-State Guide
Permalink - Posted on 2020-06-04 17:45, modified at 20:27
State leaders implemented sweeping measures to slow the spread of the coronavirus. Many are now deciding when and how to lift various restrictions.
---
New Unemployment Claims Dip Below 2 Million In Sign Pace Of Job Losses May Be Easing
Permalink - Posted on 2020-06-04 12:35, modified at 14:34
The Labor Department says about 1.9 million people filed for unemployment last week, but there are some signs that people may be returning to their jobs.
---
Who Do People Trust For Coronavirus Info? In Zambia, It's Nuns On The Radio
Permalink - Posted on 2020-06-04 12:01, modified at 16:51
Sister Astridah Banda noticed that most of the information about the coronavirus was being shared in English in a country where 70 languages are spoken. That gave her an idea.
---