WordPress Celebrates its 15th Anniversary Today
Permalink - Posted on 2018-05-27 12:00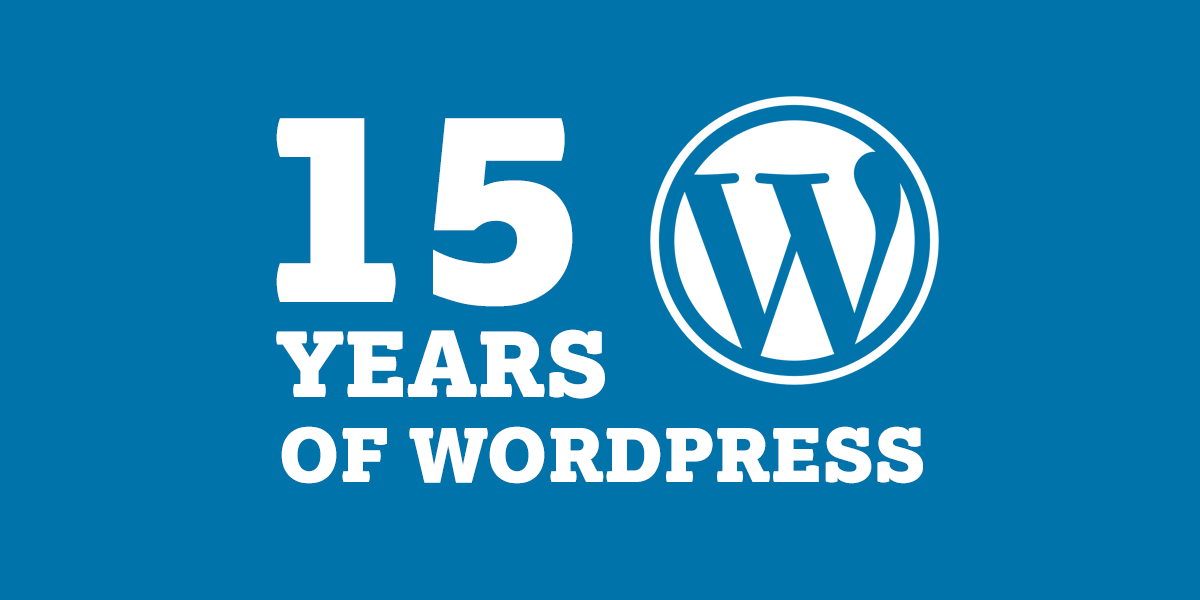 On May 27, 2003 — exactly fifteen years ago today, the first version of WordPress was made available for download. Unlike most software releases that start at v1.0, this was Version 0.7 of WordPress that was being released as the first non-beta.
What began as a fork of b2/cafelog over 15 years ago has today turned into a robust, reliable and popular Content Management System that powers close to 30% of the world's top 10 million websites.
WordPress holds a very special place in my life and I've been building websites powered by WordPress since 2006. Although I'm not a fan of the clunky mess that WordPress is turning into, I still love building with WordPress and couldn't be more excited about the years to come.
---
Mozilla Statement on Recent Reports of Aadhaar Data Being Breached (again)
Permalink - Posted on 2018-05-02 08:06
Mozilla has published a statement on their Open Policy and Advocacy blog about the recent report that it is possible to purchase a cracked software for as little as ₹2000 (US$30) to get 'write' rights to the Aadhaar database, allowing you to update any information in there without any kind of verification or checks.
The official Mozilla statement is as follows:
Mozilla is deeply alarmed by recent reports that it is possible to purchase editing rights to the Aadhaar database for a mere 2,000 rupees.

Mozilla has long argued that the Aadhaar lacks critical safeguards. With the demographic data reportedly compromised, it is hard to see how Aadhaar can be trusted for authentication. Access to myriad vital public and private services which require Aadhaar for more than a billion Indians is now at risk.

Mozilla calls for the UIDAI to close these glaring security loopholes, and to engage an independent firm to do a security audit of the Aadhaar. We further call on the Justice Srikrishna Committee and the Government of India to ensure that the forthcoming data protection bill strongly protects Indians, including from the privacy and security harms that they've already suffered from Aadhaar.
---
Man has his France.com Domain Seized by the Country, So He's Suing Them
Permalink - Posted on 2018-04-30 09:04
Cyrus Farivar, writing for Ars Technica:
[…] sometime around 2015, that very same ministry initiated a lawsuit in France in an attempt to wrest control of the France.com domain away from Frydman.

By September 2017, the Paris Court of Appeals ruled that France.com was violating French trademark law.
and…
[…] on March 12, 2018, Web.com abruptly transferred ownership of the domain to the French Ministry of Foreign Affairs. The company did so without any formal notification to Frydman and no compensation.
I wouldn't blame Web.com — it seems like they had to follow the rule of the law, but not notifying an old client of theirs of such a thing — that's just lousy and also very bad customer service.
This story also makes me wonder how much of our identities — what people know us for — are dependent on a single decision maker at some online service company. It's incredibly scary how easy it is for someone to flick a switch, for example, and stop you from accessing your primary domain, email address, or account.
---
Digg Was Just Bought By An Ad-Tech Company Called BuySellAds
Permalink - Posted on 2018-04-26 06:06, modified at 06:08
BuySellAds — the popular ad-tech company — has just bought Digg from BetaWorks.
Cale Guthrie Weissman, reporting for Fast Company:
The company bought Digg's assets, as well as its editorial and revenue teams, for an undisclosed amount. Additionally, the blockchain-based digital publishing platform Civil has hired up many people from Digg's tech team.
BuySellAds owns brands like Carbon ads* and has previously bought and absorbed ad networks like Fusion Ads & Yoggrt in the past. The company has also acquired other companies like like Authentic Jobs and LaunchBit in the past. Interestingly, Digg's tech team was not part of the acquisition.
(Note: Nuclear Bits was previously a part of the Carbon Ads network and Beautiful Pixels still runs ads from them.)
---
GitHub Launches a Desktop App Powered by Electron, Calls it "The new Native"
Permalink - Posted on 2018-04-25 14:18
GitHub has introduced a new Desktop app for macOS and Windows platforms today.
Extend your GitHub workflow beyond your browser with GitHub Desktop, completely redesigned with Electron. Get a unified cross-platform experience that's completely open source and ready to customize.
If you visit the page, the H1 tag on it reads "The new Native".
If GitHub starts pushing for Electron apps as "native", what hopes do we have left?
---