SmugMug kauft flickr
Permalink - Posted on 2018-04-21 21:09
Das familiengeführte Photo-Sharing-Unternehmen SmugMug – "mit 100 Angestellten und einem geschätzten Jahresumsatz im niedrigen einstelligen Millionenbereich" (iPhoneBlog) – kauft den Web 2.0- und Photo-Sharing-Pionier flickr von Yahoo frei (und folgt damit Upcoming und del.icio.us). Gute Sache, aber vermutlich zu spät, leider.
Next up: Tumblr.

---
»Jurassic World: Fallen Kingdom« – Finaler Trailer
Permalink - Posted on 2018-04-19 22:07
Nach den vielversprechenden ersten zwei Trailern hier nun der weiterhin großartig ausschauende finale Trailer, der nun auch mehr von der Handlung jenseits der Isla Nublar offenbart.
(
YouTube Direktlink
)
Die Hype Train hält am 7. Juni vor dem Lichtspielhaus eurer Wahl.
Welcome to Jurassic World.

---
Neue Regisseure für »Masters of the Universe«-Film
Permalink - Posted on 2018-04-19 20:23, modified at 20:31
Die unendliche Geschichte um eine neue He-Man-Verfilmung geht in die nächste Runde, indem der Regiestuhl neu besetzt wurde:
Sony Pictures and Mattel have tapped the directing duo of Aaron and Adam Nee to helm the He-Man movie "Masters of the Universe", sources tell Variety.
Ich wäre ja weiterhin für Taika Waititi. (via @InterFilmreisen)

---
iPad Stack
Permalink - Posted on 2018-04-18 21:55, modified at 21:57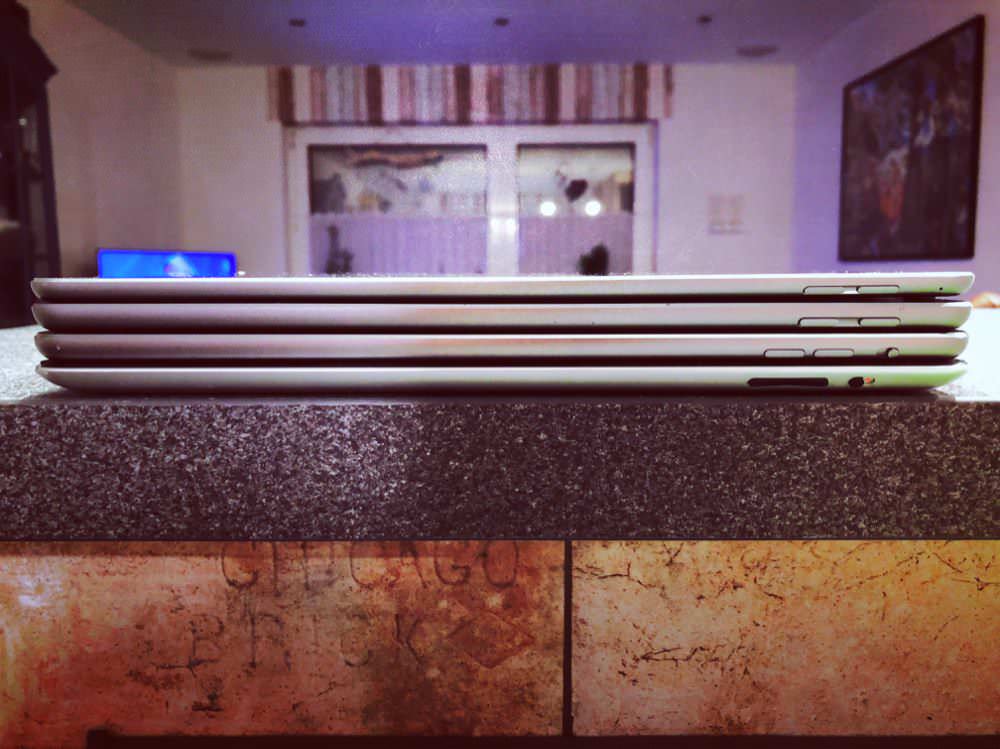 Von unten nach oben: iPad 2, iPad Air, iPad (6th Generation), iPad Pro (9.7″)

---
Why Silicon Valley billionaires are prepping for the apocalypse in New Zealand
Permalink - Posted on 2018-04-15 19:22
How an extreme libertarian tract predicting the collapse of liberal demo­cracies inspired the likes of Peter Thiel to buy up property across the Pacific.
Peter Thiel is pure evil. And the worst thing: We know he is. But what about all the other super villains we don't know about yet?

---
"Blogging is most certainly not dead"
Permalink - Posted on 2018-04-15 18:56, modified at 19:22
Really enjoyed the latest issue of Kottke's "Noticing" newsletter. A great collection of reader recommended blogs and newsletters, ending with a great quote by Kari, about why she keeps on blogging:
I also keep it out of spite, because I refuse to let social media take everything. Those shapeless, formless platforms haven't earned it and don't deserve it. I've blogged about this many times, but I still believe it: When I log into Facebook, I see Facebook. When I visit your blog, I see you.

---
Sega kündigt Re-Release von Shenmue & Shenmue 2 an
Permalink - Posted on 2018-04-14 23:56
Das Paket mit den besten beiden Dreamcast-Spielen soll noch dieses Jahr für PS4, Xbox One und PC erscheinen. Großartige Sache bevor dann irgendwann auch Shenmue 3 erscheint. Von allem bitte auch noch eine Switch-Version und ich bin vollends zufrieden.

---
»Solo – A Star Wars Story« – Trailer
Permalink - Posted on 2018-04-09 05:53
Nach dem unsäglichen ersten Teaser hier nun der Trailer zum Han-Solo-Spin-Off. Sieht deutlich besser aus, aber nach den Enttäuschungen der letzten Monate bin ich weiterhin skeptisch.

---
monote, der neue Produkt-Bookmarking-Service
Permalink - Posted on 2018-04-06 06:44, modified at 11:05
Nach sechs Monaten harter Arbeit hat mein Internet-Buddy Julian in der letzten Woche sein neues Projekt monote veröffentlicht, einen Service, der es u.a. über eine Chrome-Extension ermöglicht, Produkte aus verschiedenen Quellen zu speichern, um sie später wiederzufinden. Stellt euch eine Shop übergreifende Amazon-Wunschliste vor, bei der die Produkte zudem in thematische Collections gruppiert werden können (z.B. Books that inspired Elon Musk).
Das ganze wird nicht nur wunderbar minimalistisch präsentiert, sondern gestaltet sich auch als sehr nützlich und lädt zum Stöbern in den "Wants" der anderen Nutzer ein (hier etwa mein monote-Profil). In seinem Vorstellungs­blogpost beschreibt Julian zudem die genaueren Hintergründe und zugrunde liegenden Ideen. Und ich bin schon gespannt, wie er das Projekt weiterentwickeln wird.
---
FX orders »Y: The Last Man« pilot
Permalink - Posted on 2018-04-05 21:58, modified at 22:01
Michael Green ("American Gods," "Blade Runner 2049," "Logan") and Aida Mashaka Croal ("Luke Cage," "Turn") are set to serve as co-showrunners on the project, and will executive produce alongside Nina Jacobson and Brad Simpson of Color Force ("American Crime Story," "Pose," "The Hunger Games") and Brian K. Vaughan. Melina Matsoukas ("Insecure," "Master of None," "Beyonce: Formation") will direct the pilot and also serve as an executive producer.
\o/ /via @reeft

---