Team Kinguin upset Perfect World Masters Group B; LGD Gaming knocked out early
Perfect World Masters Minor Group B has come to a close. Unexpected results find Team Kinguin in the top place seed while LGD Gaming has been eliminated from the event.
Click here to read the full article.
---
LEGO Marvel Super Heroes 2 Cheats Enable God Mode, Infinite Money
Warner Bros., and TT Games' LEGO Marvel Super Heroes 2 is available across a number of gaming platforms, but if...
The post LEGO Marvel Super Heroes 2 Cheats Enable God Mode, Infinite Money appeared first on One Angry Gamer.
---
Door Kickers: Action Squad is the indie answer to Rainbow Six Siege
Ever feel like Rainbow Six Siege was just a little too hard? All those operators to remember, and new ones coming all the time? Thankfully, Door Kickers: Action Squad takes the ideas behind Ubisoft's tactical shooter, and helpfully condenses it.
Here's a look at some upcoming PC games.
Door Kickers: Action Squad is a side-scrolling action game that has you control a SWAT trooper. After choosing loadouts, players head to various bad guy locales, before kicking open the door and dealing with the threat. You can even head in with a friend, with both local and online co-op.
---
Making it in Unreal: how Sky Noon's devs grappled with grappling hooks
What is it that Overwatch's McCree says? "It's Sky Noon," or something like that, anyway. Far from a terrible pun, Sky Noon is actually a multiplayer shooter made in Unreal Engine 4 in which each player is a gunslinger from the Wild West. The hook? Literally a flipping grappling hook. You see, in Sky Noon, it isn't the guns that kill you - it is the fall.
Read more: the best FPS games on PC.
Sky Noon began as a school project created by a small team of uni students who call themselves Lunar Rooster. The team has since ballooned it into a full game due to positive fan reactions at events like PAX Australia, where players found themselves hooked (eh? eh?) by its distinct take on the competitive shooter. 
---
Pokémon Ultra Sun and Ultra Moon Both Make Debut in UK Charts Top 5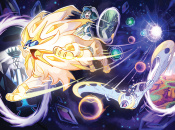 Skyrim VR outsells Skyrim on Switch, though
---
Street Fighter 5 Arcade Edition: get a glimpse at the new v-triggers in the latest trailer
Street Fighter 5: Arcade Edition's big mechanical change gets a little more detail in trailer form.
Back when Street Fighter 5: Arcade Edition was announced Capcom didn't give too much information on how it'd change the game beyond telling fans it'd include a wide variety of new modes including multiple Arcade Modes, Bonus Stages and a new Special Battle mode, but one major new mechanic had fans intrigued: the addition of a second V-Trigger for every character in the game.
If you're unaware, the V-Trigger is a special skill unique to each character in SF5 that can be used when a meter fills. Sometimes this powers characters up or gives them special skills – and by giving players a choice between two of them, every character in the game should be able to be played in some significantly different ways to how they were before. It's exciting for hardcore players, while those casual players or those yet to try SF5 will also find more to experiment with on a casual level. It's good stuff. Here's the new trailer:
This trailer might look like a lot of flashing lights and the like, but if you play SF5 you'll notice some pretty significant stuff in there. It looks like Ryu has a powered-up parry move as his second V-Trigger, while we clearly see M. Bison (Dictator) do his Psycho Crusher in the trailer – that's a move he hasn't had in SF5 up until this point. A few characters seem to have gained power bombs with ground bounce properties, which should open up a lot of combo potential.
Anyway – it all looks pretty cool. It very much looks like Street Fighter 5: Arcade Edition is going to be everything vanilla SF5 should've been – and mercifully, it's a free update for existing owners of the game, with all gameplay updates free and all the new characters earnable with in-game currency. The game will also get a full relaunch including all Season 1 and Season 2 DLC characters on both PC and PS4 for those among you who never picked it up. Both land in January.
---
NewBay unites video games group under MCV
NewBay, the publisher of MCV, Develop and Esports Pro, announced today that it will be evolving its UK-based video games brand portfolio into a single website, magazine, and suite of events, under the banner of MCV.
The brand will be led by the current Editor, Seth Barton, who said "MCV is evolving to become one brand for the entire UK games industry. Whether you're an indie searching for the best partner for your next game, an esports tournament provider looking for new sponsors, a retailer wanting to maximise its community reach, a publisher acquiring new capabilities to push engagement, a mobile studio that needs better data analysis, or even a media planner considering AR as part of its next triple-A campaign.
These are all parts of our industry and MCV will reflect every diverse aspect of it, with up to date analysis and insight. It will help everyone make better informed business decisions, and provide an independent and trusted platform for the industry to communicate through."
From January 2018, MCV, Develop & esports pro will exist as one entity, under the banner of MCV, with one bigger monthly magazine, one mobile optimised, new look website including new jobs platform, and a suite of events tailored for the industry. This structure will better reflect the changing nature of the games industry, while continuing to highlight the latest trends across publishing, development, eSports, and everything in between.
The Develop Awards, MCV Awards, Future Games Summit, Women in Games and a forthcoming esports focused event will continue to serve the industry with a plethora of high quality opportunities for networking and talent recognition. 
Mark Burton, Managing Director of NewBay stated, "NewBay must continually evolve our offerings to keep pace and remain the premier source of information on the UK video games industry. We are committed to promoting this industry as one of the most interesting and vibrant creative businesses out there, and we are excited and confident that these changes will create new opportunities and enable us to provide the best possible service to our clients and readers."
---
Review: Monsters of the Deep: Final Fantasy XV
Final Fantasy XV ended up being one of the better games in the long-running series. It prompted a popular protagonist with Noctis and told a great story about bro-ing down in the Final Fantasy universe. After a year of episodic releases to add to the original game, Square Enix has appointed developer Wan Hazmer to release […]
---
Monster of the Deep: Final Fantasy XV Review — Quite a Catch
Monster of the Deep: Final Fantasy XV may be the first must-have title for PlayStation VR, so long as you have a base understanding of the underlying game. ...Read More
The post Monster of the Deep: Final Fantasy XV Review — Quite a Catch by Lou Contaldi appeared first on DualShockers.
---
H1Z1 adds new map and 'Daily Challenges' in latest update
As well as a number of player-directed balances.
---
Minecraft's Update Aquatic, Super Duper Graphics Pack, and cross-platform play detailed at MINECON Earth
As I'm sure you're already aware, MINECON Earth took place over the weekend and there are a few things to take note of.

Firstly, the Update Aquatic will give your oceans a little makeover to make them more interesting. Features like coral, kelp, and all sorts of marine life - including dolphins - will be included. You'll also be able to explore shipwrecks, enjoy new water physics, and get your hands of a neat, new weapon: the trident.

The trident will be more than just a wet piece of metal. No, as well as throwing it at enemies and using it in close quarters, there are a few new enchantments to go with it: Impaler, Loyalty, and Slipstream Dash. We're not exactly sure when this update will hit out but we'll keep you updated.

[read more]
---
Twitch: "We're almost ready to go full-blown Hunger Games"
Co-founder Kevin Lin is excited for a new age of games development where streaming audiences can interact with the players
---
Daily Deal: Tekken 7 Is 51% Off On GamersGate
Looking for a game to kill some time? Why not grab a friend and play with NAMCO's latest brawler Tekken 7? GamersGate is running a massive discount on the title, dropping it down by 51%.
Following shortly after the events of Tekken 6, Tekken 7 focuses on the generational feud between long-time bad guy, Heichi and his son, Kazuya. The title also introduces two new mechanics to switch up gameplay, Rage Art and Power Crush which increase the characters' powers.
Rage Art allows the chance to hit 30% crits more regularly while sacrificing the potency of normal attacks while power crush allows players to attack while taking damage.
---
'Discover the epic conclusion of the Mishima clan and unravel the reasons behind each step of their ceaseless fight. Powered by Unreal Engine 4, TEKKEN 7 features stunning story-driven cinematic battles and intense duels that can be enjoyed with friends and rivals alike through innovative fight mechanics.

Love, Revenge, Pride. Everyone has a reason to fight. Values are what define us and make us human, regardless of our strengths and weaknesses. There are no wrong motivations, just the path we choose to take.

Expand your fighter's journey by purchasing the Tekken 7 Season Pass separately and gain access to stunning additional content.'
---
Interested? Head on over to GamersGate and pick up the title, here.
The post Daily Deal: Tekken 7 Is 51% Off On GamersGate appeared first on Gameranx.
---
EA insists that Star Wars Battlefront II loot boxes aren't gambling
With the gambling authorities of both Belgium and the Netherlands now looking into the implementation of loot boxes in Star Wars Battlefront II, publisher EA has doubled down on its stance that these do not constitute gambling. Speaking to GameSpot , the company reeled out a lot of the usual lines: that players don' t need to spend a penny, that users always get something when they play... you ge...
---
Star Wars Battlefront II Physical Sales Massively Down in UK
The physical sales of Star Wars Battlefront II are down 60% in the United Kingdom when compared to Star Wars Battlefront as reported by GamesIndustry.biz. Star Wars Battlefront II has sold fewer physical copies…
The post Star Wars Battlefront II Physical Sales Massively Down in UK appeared first on TechRaptor.
---
World Sailing Launches Esports Competition for Mobile Game Virtual Regatta
That's right – sailing is becoming an esport. The eSailing World Championships has been officially launched by World Sailing, the global governing body for the sport of sailing. Next year, interested gamers can play the mobile sailing game Virtual Regatta, accumulate points, qualify for playoffs, and if they're good enough, make it to the finals at...
---
Minecraft's The Update Aquatic adds new fish, shipwrecks, and treasure hunting dolphins
Minecraft's oceans are getting their biggest update ever. The Update Aquatic was announced at Minecon Earth, and  is an overhaul of the entirety of the game's sea life, arriving in Spring 2018.
Here are some of the best Minecraft mods.
The Update Aquatic will introduce a shipload of new features, from new fish, to explorable shipwrecks, and treasure-hunting dolphins. Of course, the oceans are also home to many of nature's most terrifying creations, and as such you'll need something to defend yourself with when you go exploring. As a result, The Update Aquatic is introducing a new weapon in the form of the trident, which can be upgraded to return to you automatically.
---
Intel calls for Coffee Lake manufacturing aid from China to combat CPU stock issues
Intel's Coffee Lake processors launched back in October, but implying they have been a bit thin on the ground since then may be an exercise understatement. To combat this - arguably self-inflicted - problem, Intel are roping more factories into the fray to churn out even more of their six-core processors.
Looking for the finest silicon on the market? Look no further. Here are the best CPUs for gaming.
To compete with AMD's disruptive Ryzen processors sooner rather than later, Intel launched their Coffee Lake processors earlier than expected, cutting the previous generation Kaby Lake's processors life a little short, while also rendering a selection of high-end Skylake-X chips obsolete a few scant months aft
---
Sid Meier's Civilization VI reduced to £25 in Black Friday sales
The Civilization series is known to make the hours vanish without a trace as you continually press on for just one more turn on the path to world domination. Picking up a copy of Sid Meier's Civilization VI for £25 from Amazon, then, has got to be some extremely good value for money.
The latest entry in the world-conquering strategy-sim launched at the tail end of 2016 and refined a number of mechanics that split the feelings of many Civ veterans. Whether you consider yourself a purist or open to some of the new changes, Civilization VI undoubtedly offers up one of the most comprehensive games in its genre.
If the time-devouring menace of Civilization VI doesn't sit with your gaming tastes, though, we'll be keeping an eye on all the best Black Friday PC gaming deals throughout the week.
---
Persuasive Games
Hello I am currently doing a study into Persuasive Games and how the design of them could be improved to make them more efficient. While looking for places to post my survey I found this forum and hoped you guys could give me some thoughts and opinions If you are interested in participating in the survey you can find the link here: https://goo.gl/forms/6LszmtYnPd3TjgpF2 Also please let me know what you think of the genre and how you think the design could be improved ? Thank you =)
---